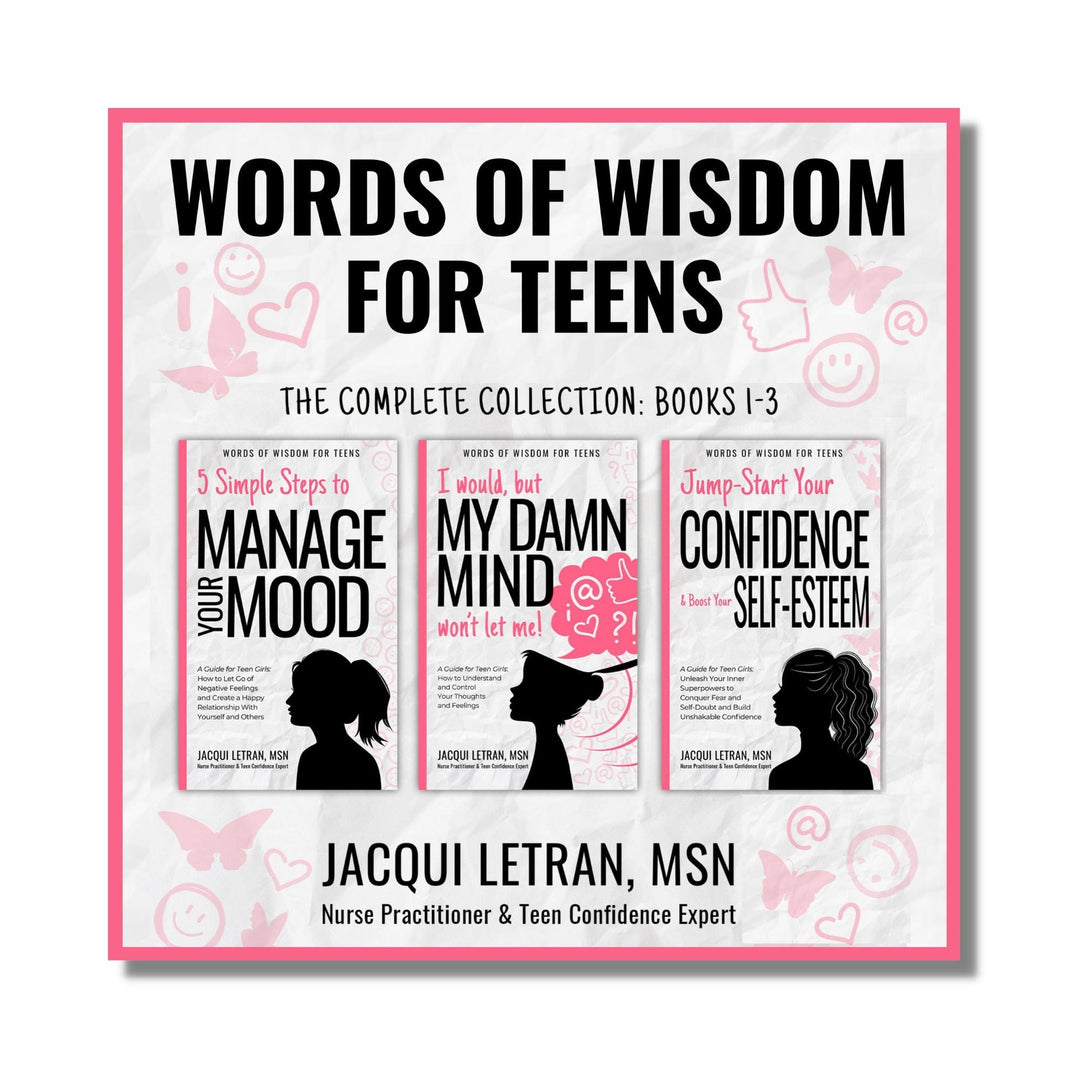 AUDIOBOOK: GIRL'S Words of Wisdom for Teens (Books 1-3)
THIS AUDIOBOOK COLLECTION WILL HELP TEEN GIRLS:
Reflect, evaluate, and let go of their negative feelings using 5 simple questions
Understand how their mind works, and take charge of their thoughts and feelings
Unlock 7 inner superpowers within themselves to create unshakable self-confidence and lasting self-esteem
Click below to play audio sample.
Click to Play Audio Sample
Regular price
$29.85
Sale price
$19.95
/
✓ THIS AUDIOBOOK WILL BE DELIVERED INSTANTLY BY EMAIL FROM BOOKFUNNEL.

It should be the best time of their life, but for some, it's a nightmare. 
Is anxiety or stress making your daughter miserable?    

In a world of social media, where all you see are other people's best and most shiny moments, it's easy for your daughter to think her life is a disappointment. Anxiety over grades, friends, gossip, and the everyday pressures of life can be crushing.    

What if you can equip your daughter with tools to ensure her success?  

Using what I've learned from my 20 years of experience as a nurse practitioner and teen confidence expert, I've written 3 books to help your daughter break free from the endless pressure and be positive, resilient, and confident instead.  
Book 1: 5 Simple Steps to Manage Your Mood: helps your daughter to reflect, evaluate, and let go of her negative feelings using 5 simple questions 
Book 2: I would, but MY DAMN MIND won't let me: helps your daughter understand how her mind works, so she can start taking charge of her thoughts and feelings
Book 3: Jump-Start Your Confidence and Boost Your Self-Esteem helps your daughter to unlock 7 inner superpowers within herself to create unshakable self-confidence and everlasting self-esteem
These three books, and their companion guides will help your daughter use the power of her mind to stop the troubling thoughts that are holding her back. 
Get the Words of Wisdom for Teens Collection now and give your daughter the tools she needs to be happy, confident, and successful in life.
This audiobook will be delivered instantly by email.
Be on the lookout for an email from BookFunnel with your download link.
You can listen to the audiobook using the BookFunnel app or stream on any device using the cloud player.
Since audiobooks are instant downloads, no refund can be given.
Refunds only given if you buy a duplicate digital item within 48 hours of first purchase by mistake. In this case, the duplicate item will be refunded.