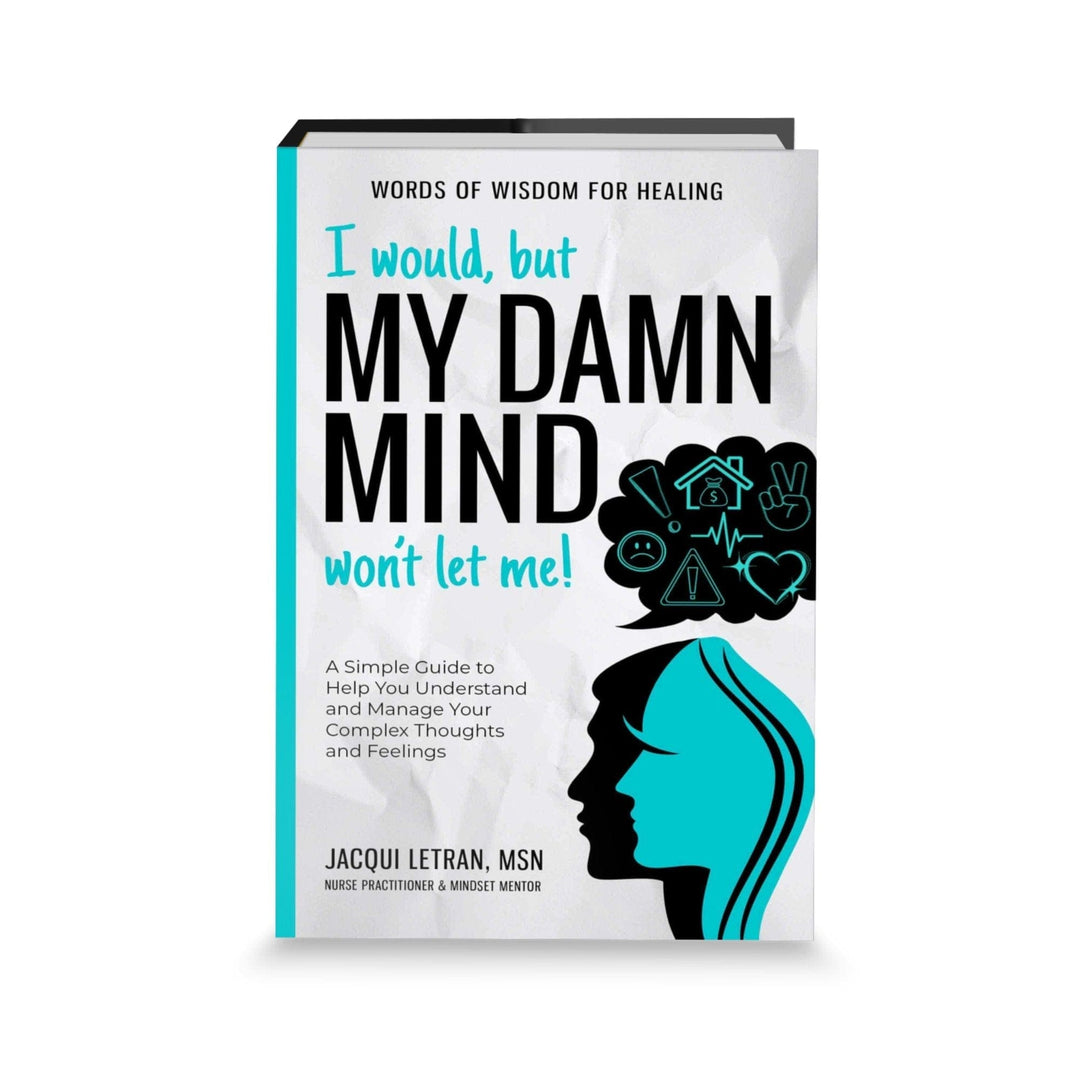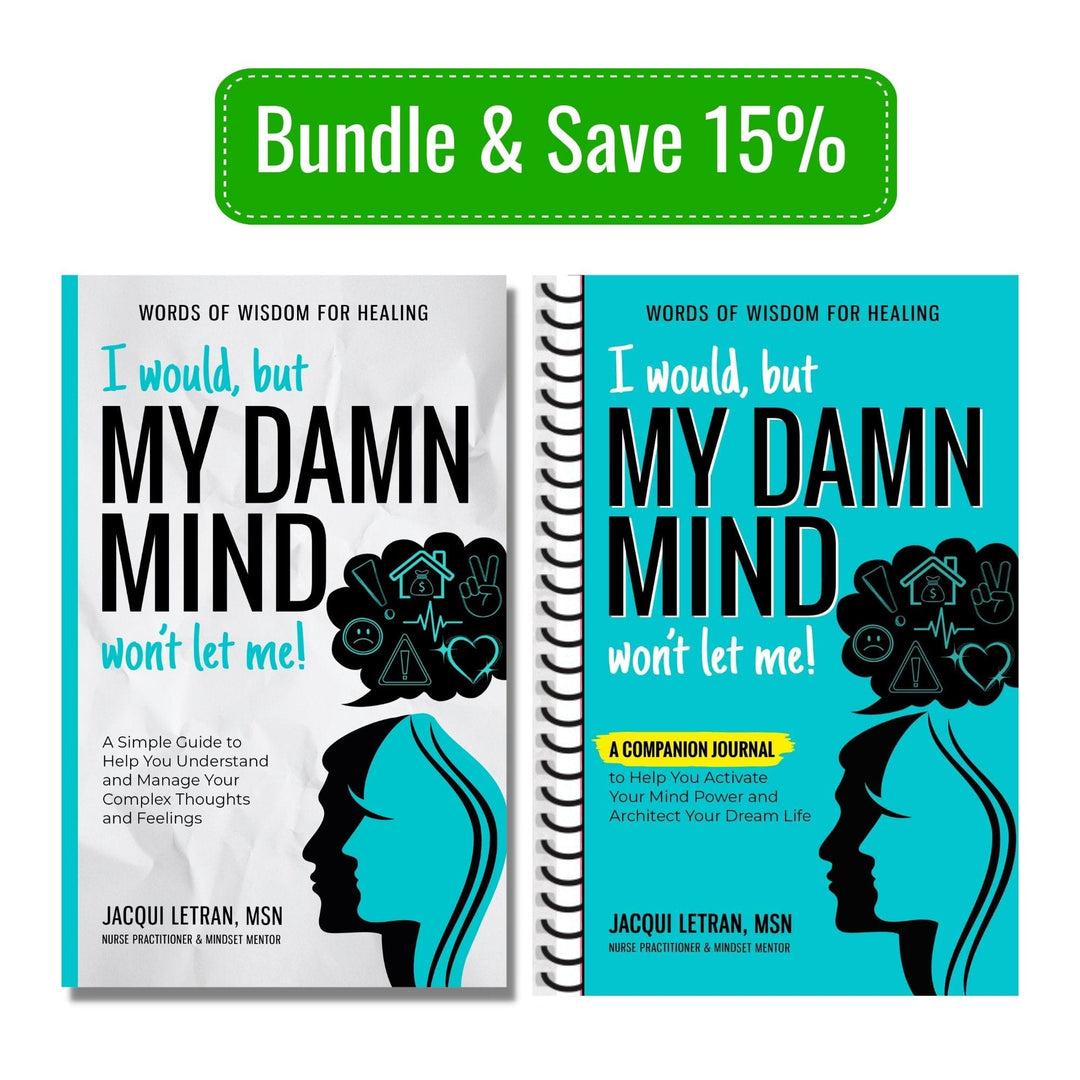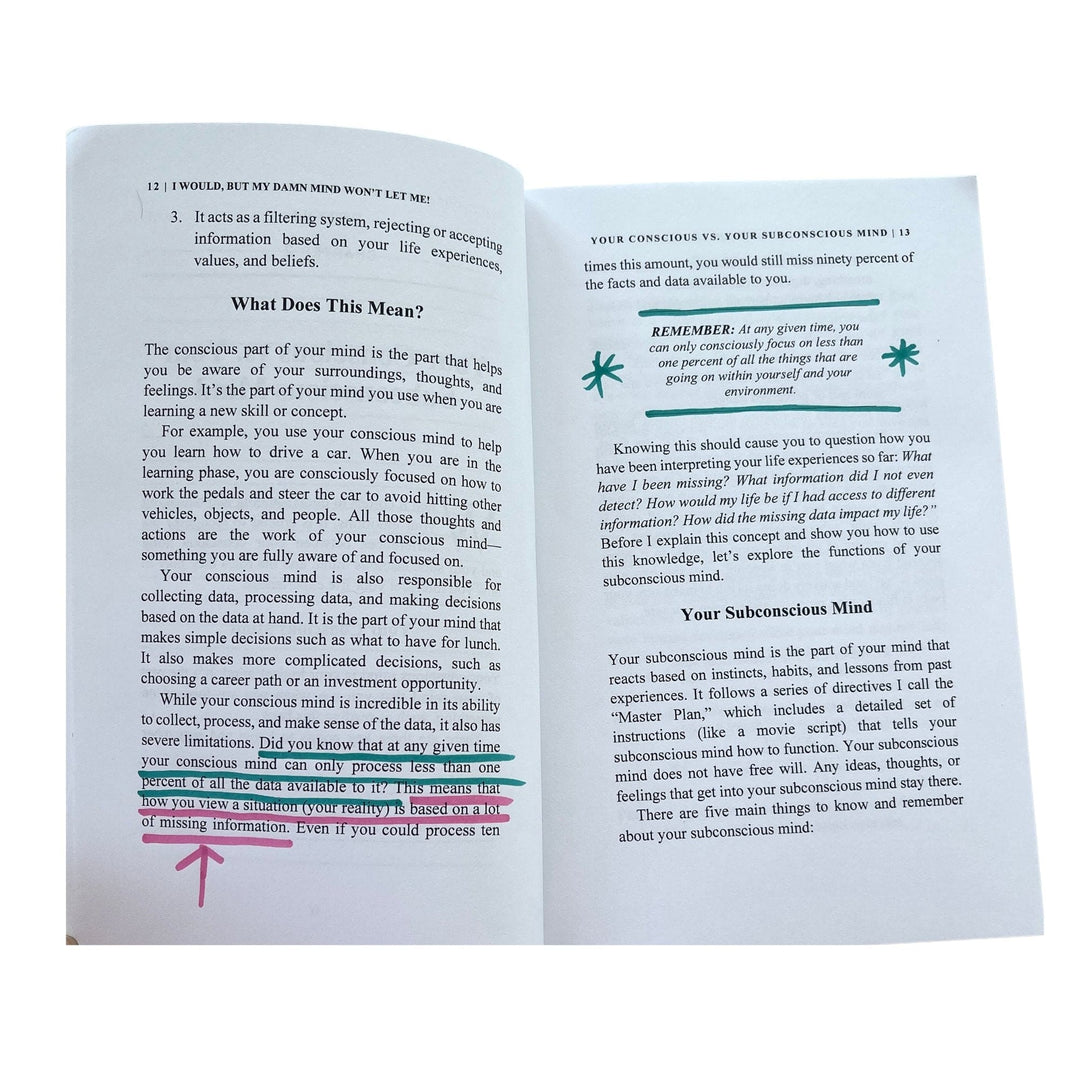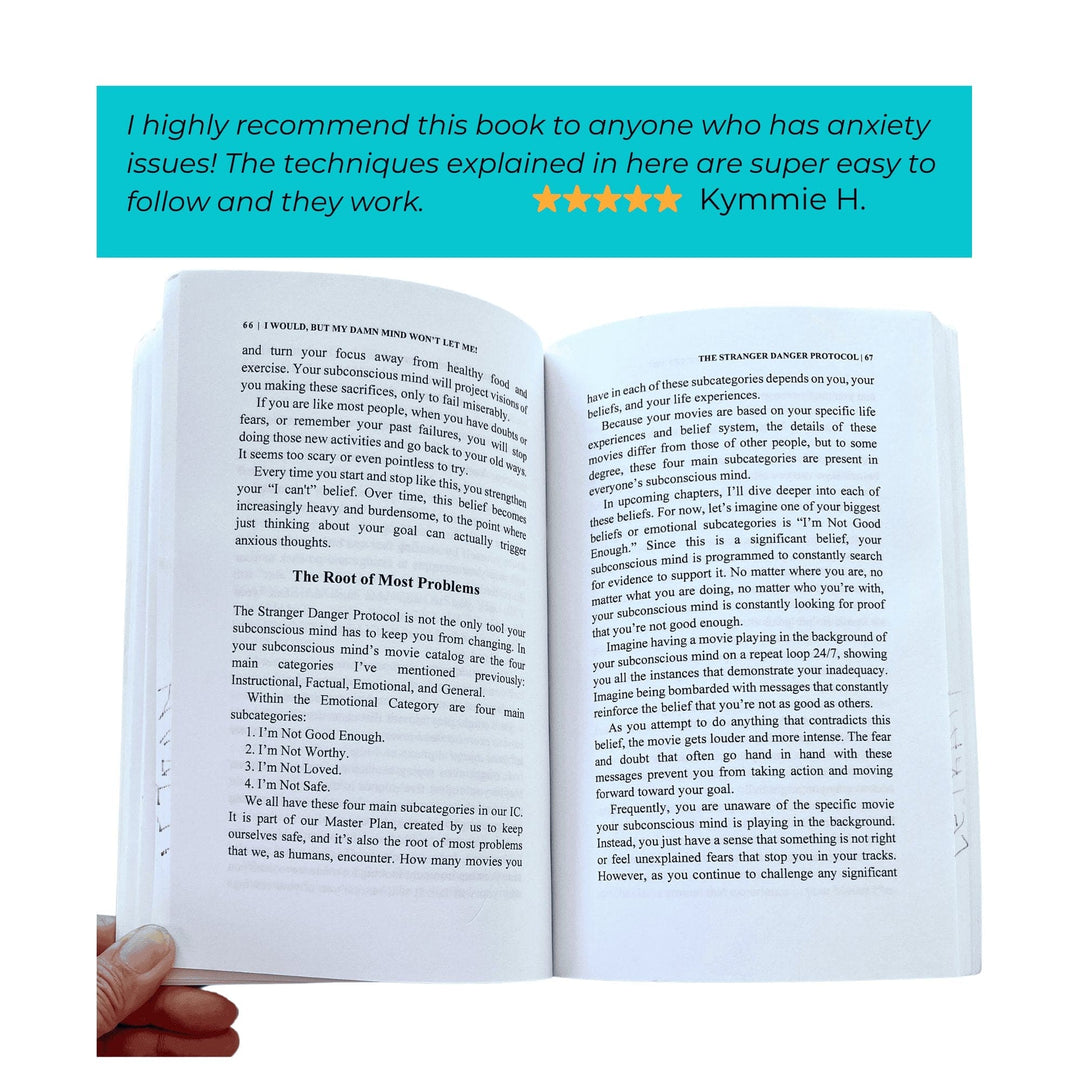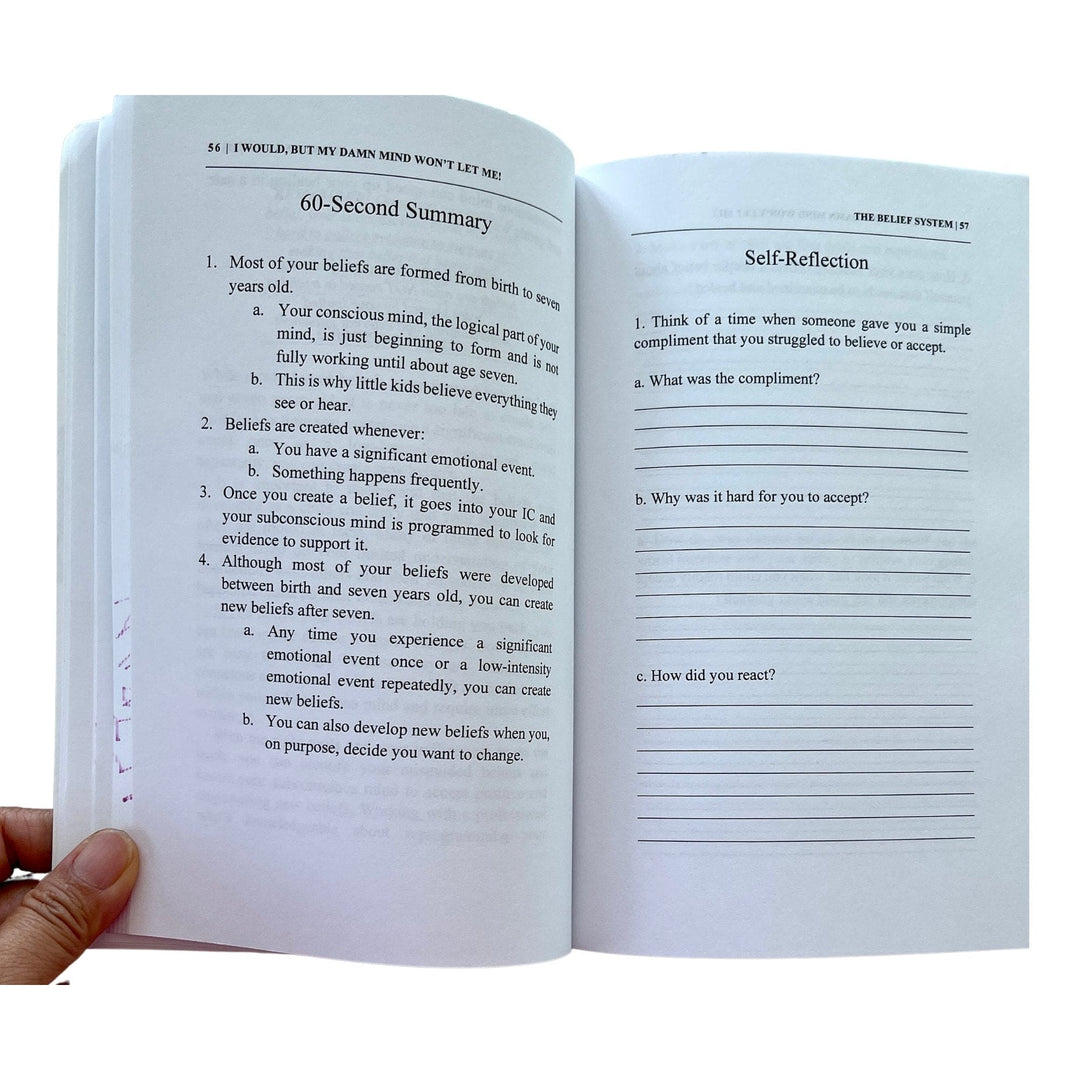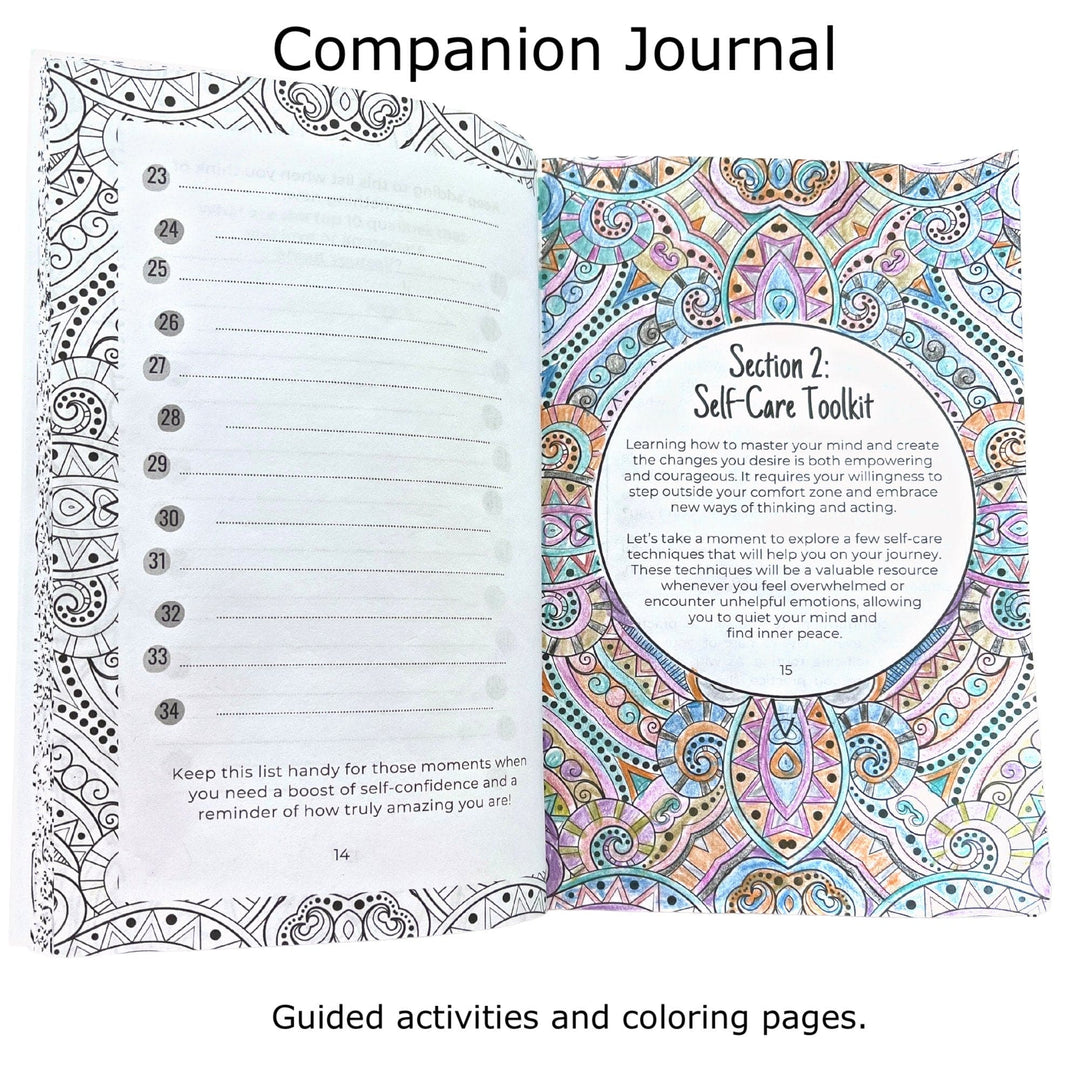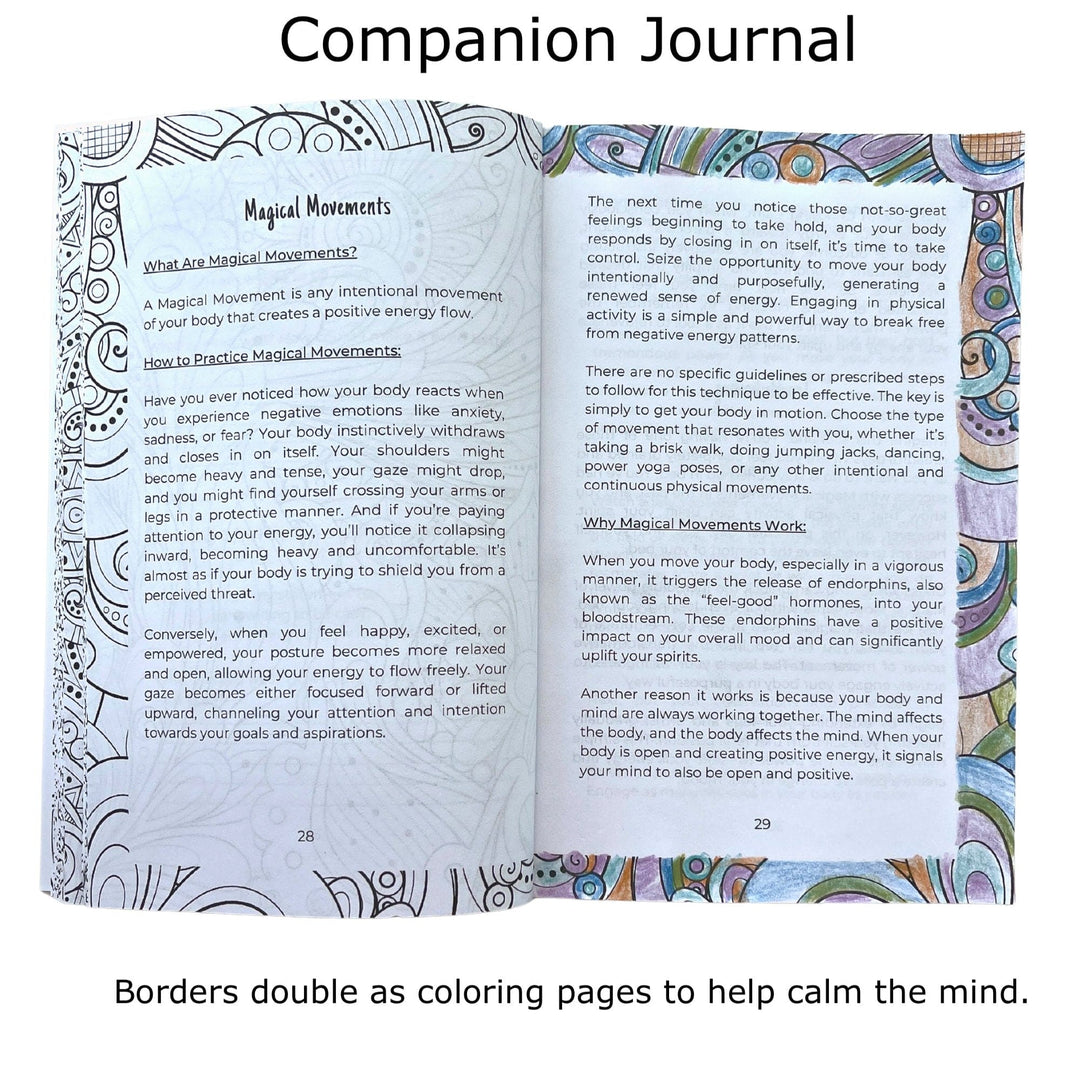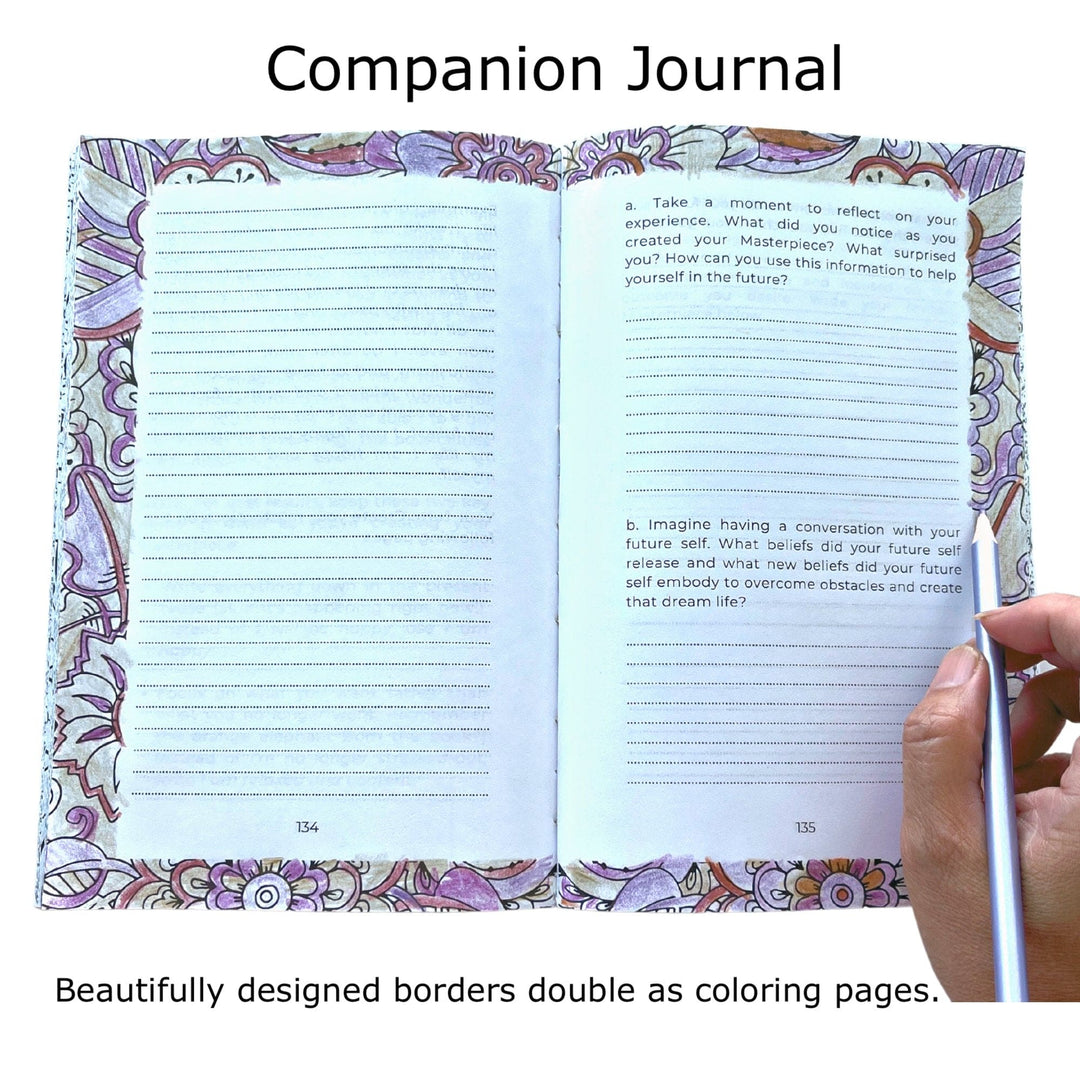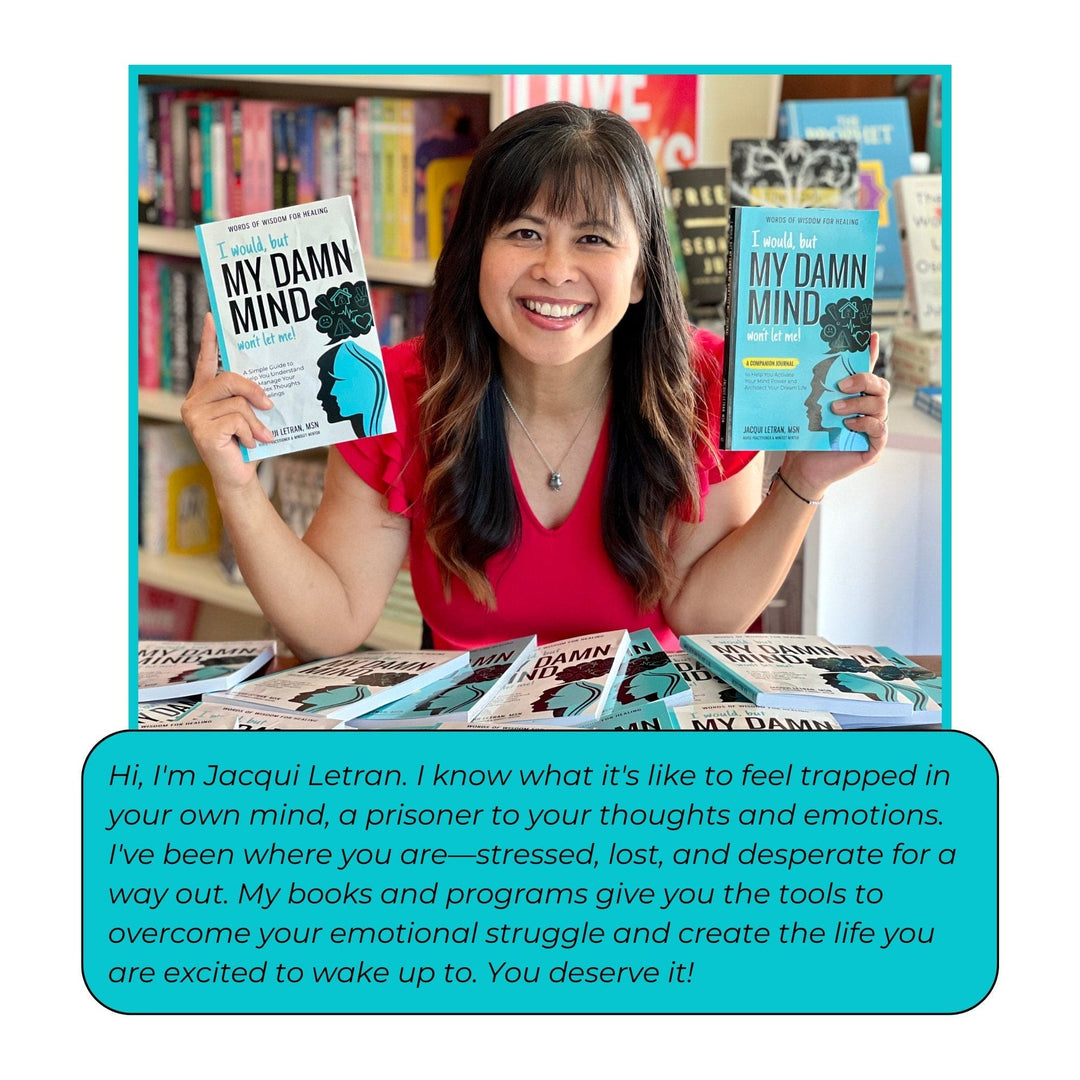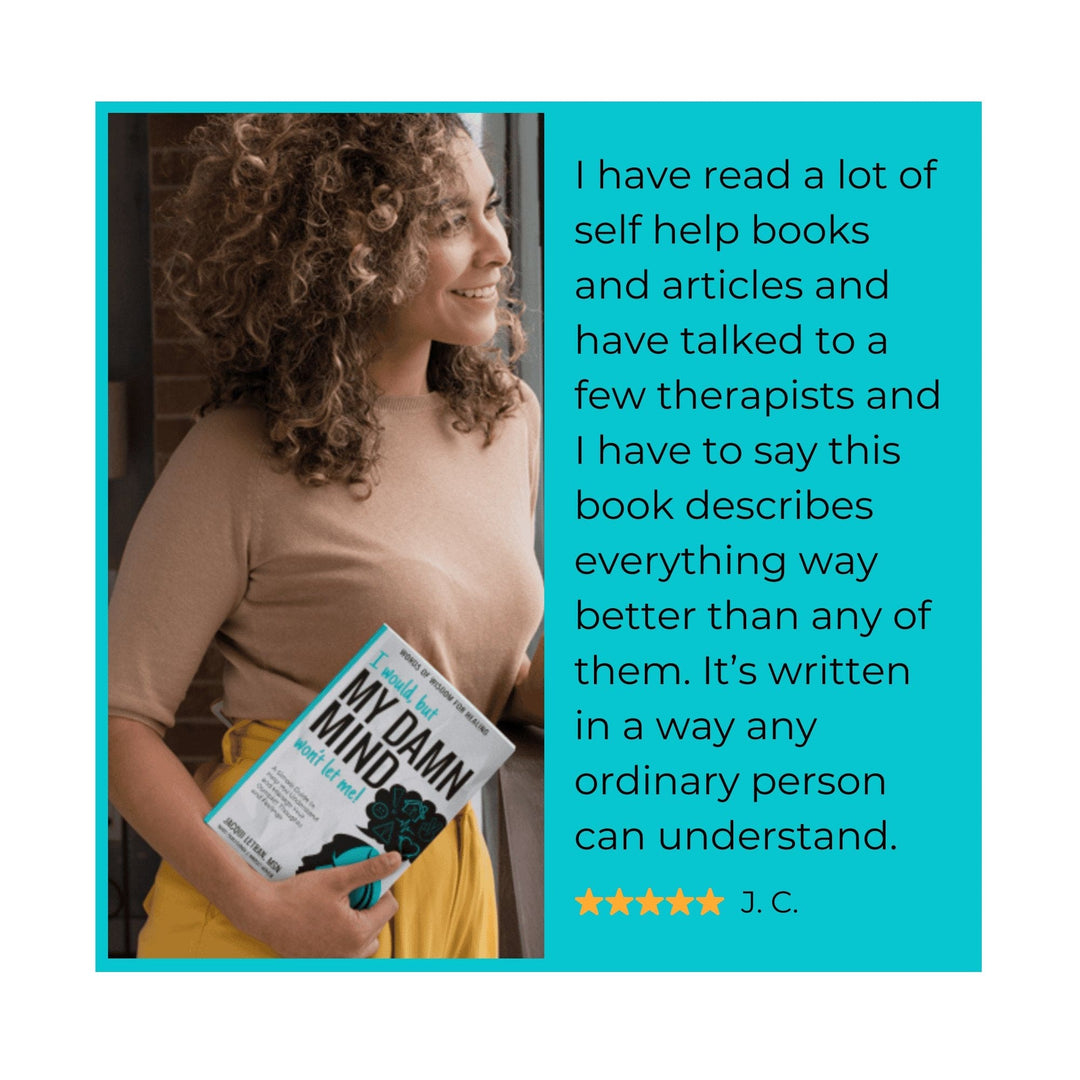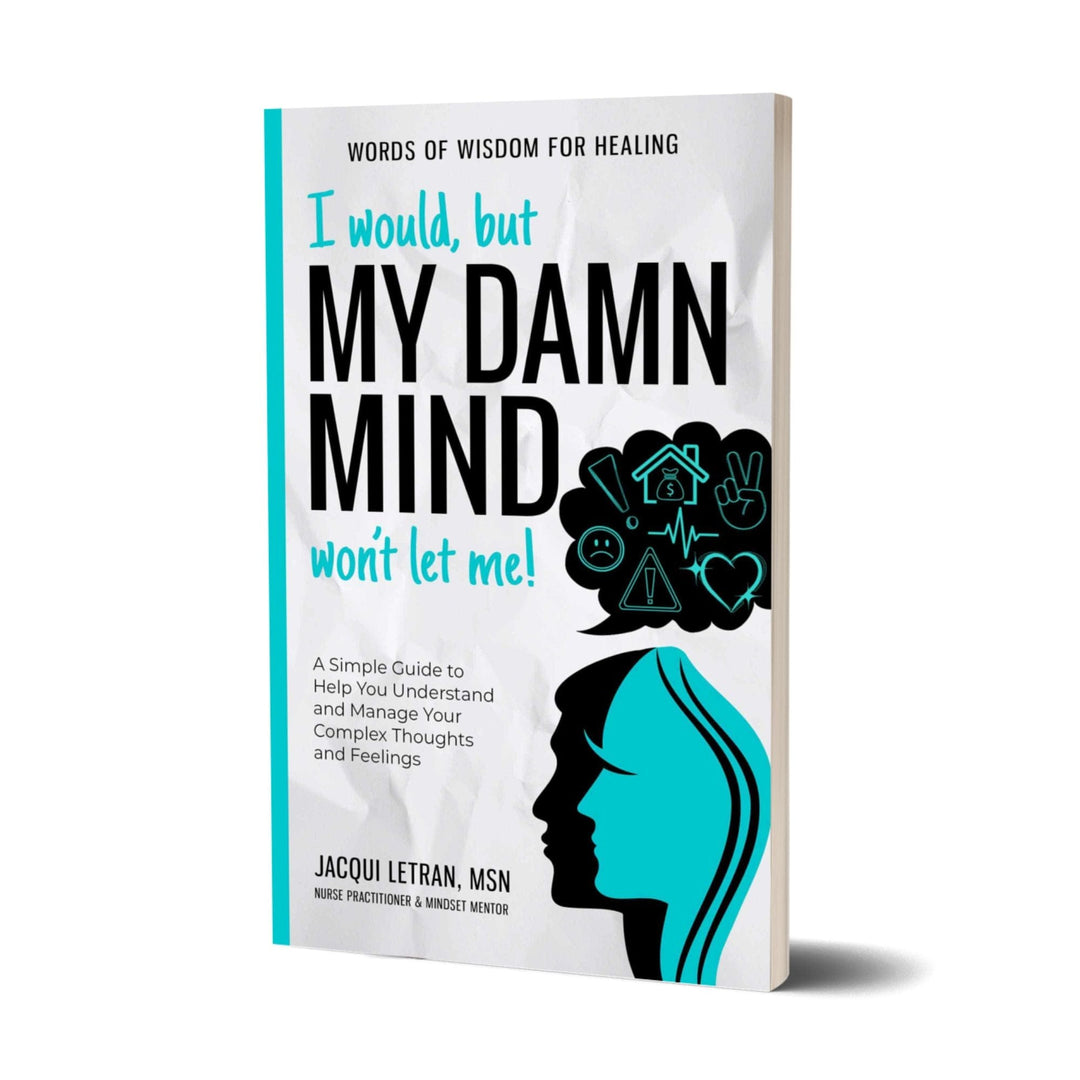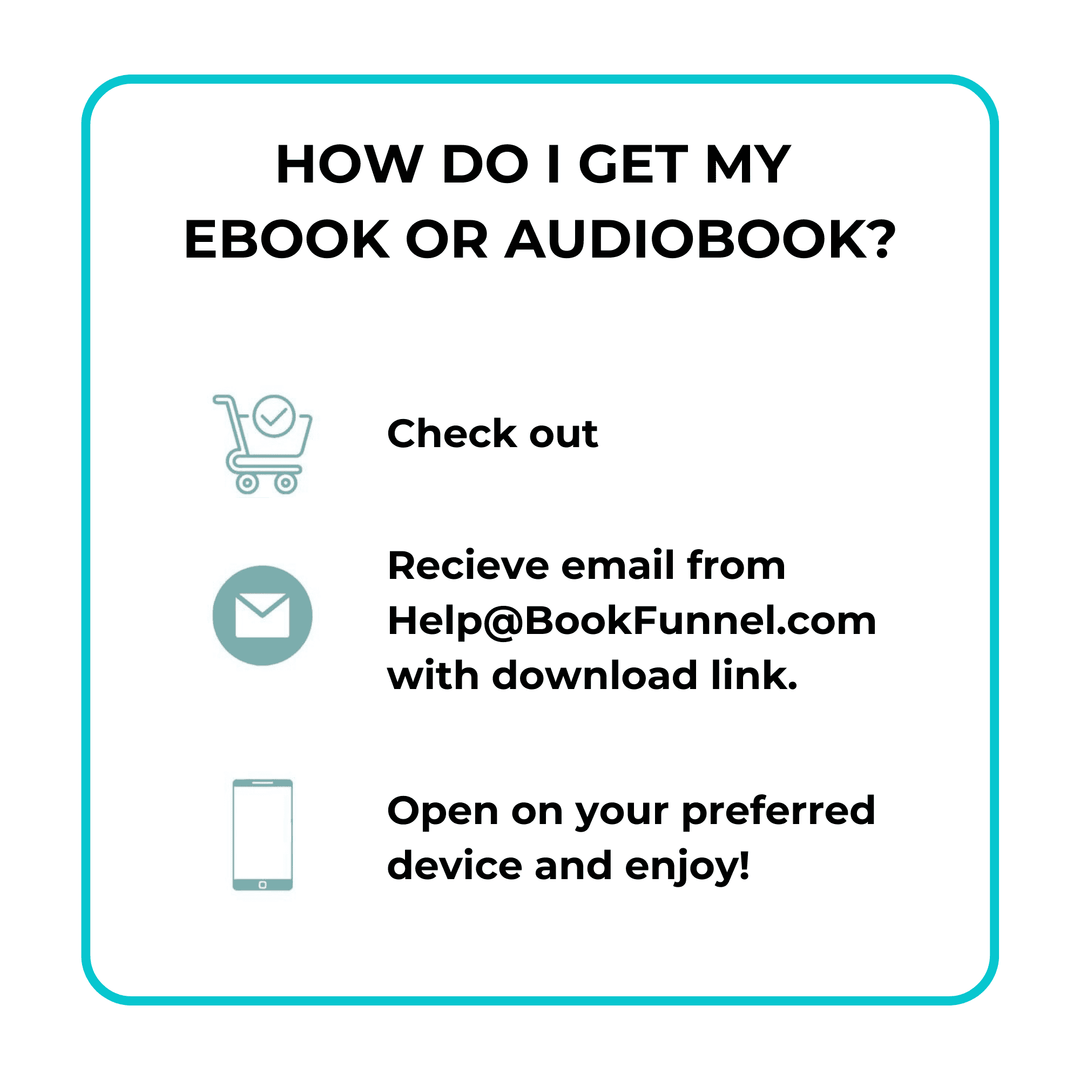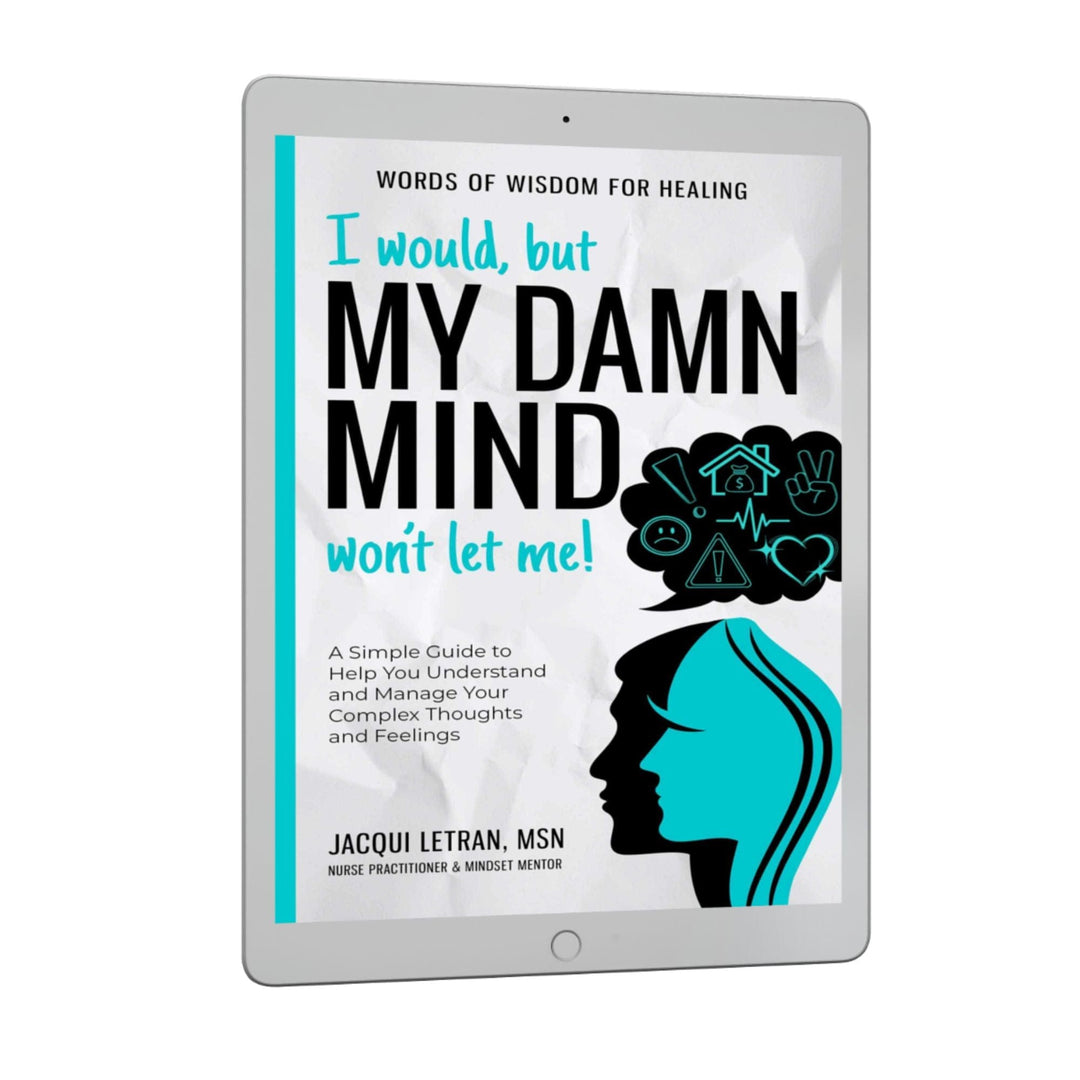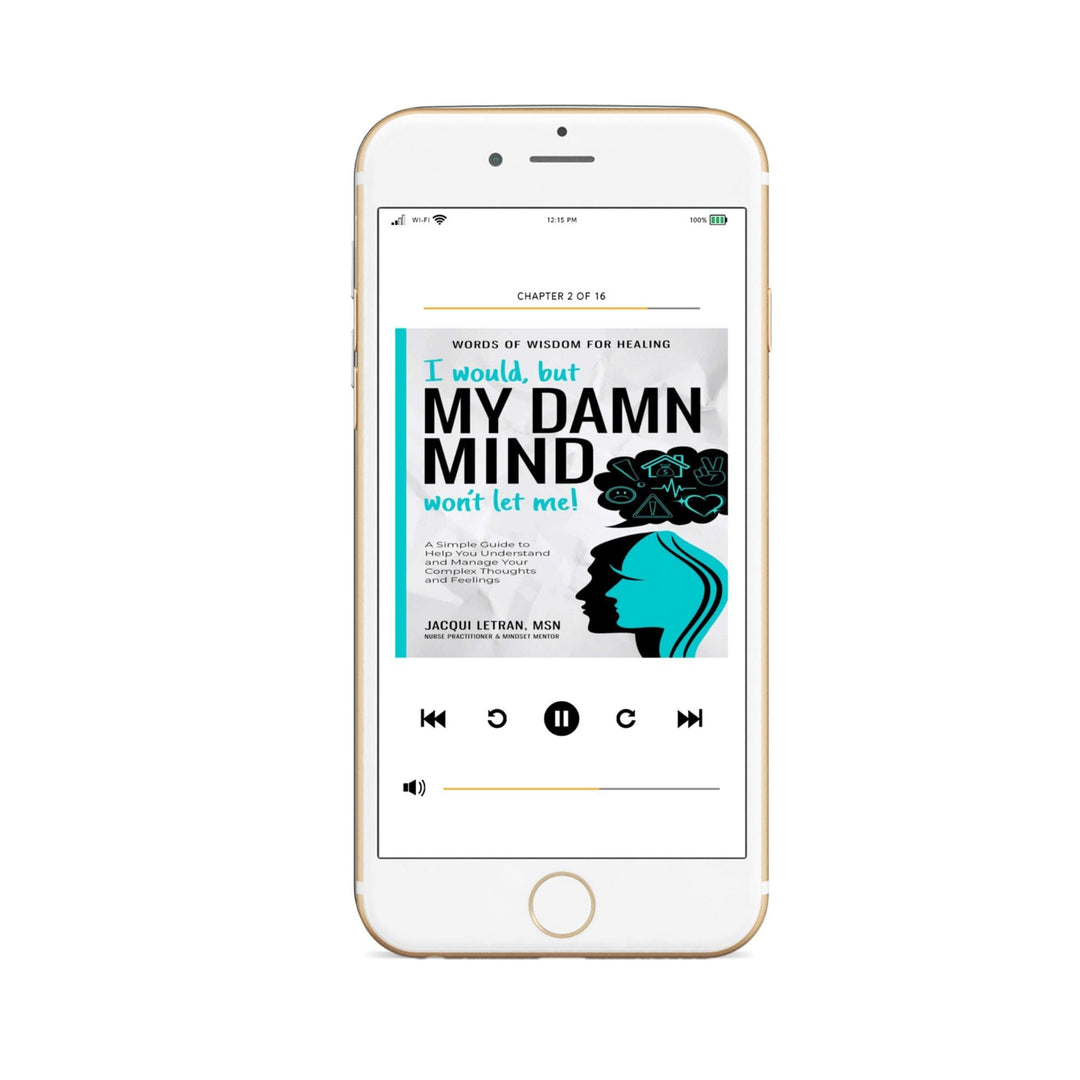 ADULT'S: I would, but MY DAMN MIND won't let me!
Book & Spiral Journal Bundle
Shop Worry-Free: 🔒 100% Secure 256-Bit Encrypted Checkout and 30-Day Return Policy.
ARE YOU TIRED OF CONSTANT OVERTHINKING, ANXIETY, AND SELF-DOUBT?

Do you feel overwhelmed by non-stop stress and unhappiness?
You're not alone; you can break free!
Discover how to:
✅ Stop overthinking and reclaim your mental freedom.
✅ Quiet your mind to find your inner peace.
✅ Face your fears with newfound confidence.
✅ Remain calm and solution-oriented even in difficult times.
✅ Transform your life into a stress-free, joy-filled journey.
With relatable examples and practical strategies, you'll gain the confidence you need to reconnect with your inner wisdom and master your mind.
Unlock your path to a happier, more peaceful life now.
Publisher:
A Healed Mind, May 12, 2023

Language:
English

Pages:
Regular Print: 168
Large Print: 233

Dimensions:
Regular Print: 5.5 x 0.38 x 8.5 inches
Large Print: 7 x 0.53 x 10 inches

Paperback ISBN:
Regular Print: 978-1952719226
Large Print: 978-1952719257

Hardcover ISBN:
Regular Print: 978-1952719233
Large Print: 978-1952719264
Just Stop Worrying
Have you ever been told to simply stop worrying and focus on the positives in your life? While well-intentioned, this advice can leave you feeling frustrated and invalidated. Perhaps you've tried several methods to help yourself get a handle on your mind, but the techniques you've tried so far don't seem to help, at least not long term.
You've done what you can, and you're still stuck in the endless loop of negativity, fear, and self-doubt. With every new self-improvement technique you try, you feel a little more defeated.
You may feel like your circumstances are beyond your control and that changing your life for the better is impossible. You may even convince yourself that you were born with these limitations, and there is no hope of overcoming them. Life as you know it, is difficult and so unfair!
But what if that's not the truth? What if I could show you how to gain control of your thoughts and feelings so you can create the changes you desperately desire? Would you be willing to leave a space for possibilities?
The human mind is incredibly powerful. It can create dreadful life experiences, and it can create our most joyous moments, too. It might not feel like it right now, but you have the power to direct your mind in creating the life experiences you want.
Once you learn easy, yet highly effective ways to understand your thoughts and feelings, you'll find that you have the power to create the life you want and deserve. The power to create permanent, positive change is available to you no matter how hopeless your situation may feel to you currently.
If you're tired of feeling stuck and unhappy, now is the perfect time to stop wasting your energy and time on those old, useless emotions and thoughts. Today is the day to take charge of yourself and create the changes you once thought impossible.
This book will show you how to:
Understand how your mind works.
Identify and challenge outdated beliefs.
Eliminate unhealthy thoughts and emotions.
Maintain a calm and relaxed state of mind, even in difficult situations.
Unlock the full potential of your mind to create the authentic, fulfilling life you have always wanted.
Your journey to happiness begins with the belief that happiness is possible for you. Even if your personal experiences have led you to believe that you're destined for a stress-filled and unhappy life, I will show you that you do have other options. Not only can you learn to believe that happiness is possible for you, but you can also learn how to lay a solid foundation of self-belief that will lead you to success and happiness.
The next time somebody tells you to, "stop worrying and focus on the positives in life," you can smile and thank them for the gentle reminder and instantly take control of your thoughts and feelings again. 
The power to create the life you want is in your hands.
SELF-REFLECTION:
Exercise 1: The Power of Your Breath
Let's spend the next few minutes preparing yourself and your mind for possibilities. 
Start by taking in a slow, deep, and deliberate breath for a count of five. Hold your breath for a count of five. Slowly release your breath for a count of five. (Note: If holding your breath for five seconds is uncomfortable, feel free to adjust the length of time to a level that feels just slightly challenging to you.)
Take in another slow, deep breath for a count of four and hold it for a count of four. This time, notice that you have the power to create your discomfort by holding your breath. Slowly release your breath, and notice that you also have the power to release your discomfort. Repeat the breathing exercise two more times, noticing just how much power you have over your comfort and discomfort with this simple exercise. Continue with two more slow breaths. With each breath out, give yourself permission to let go of the stress and worries and just enjoy this moment.
Now, take a moment to reflect on your experience. What did you notice? What surprised you? How can you use your breath to help you in the future?
Exercise 2: The Power of Your Thoughts
Take five minutes to think about how your life will be once you can stop those negative thoughts from occurring and instead focus on the positives of your situation. Imagine feeling happy and content with your life and being able to create joy from the simplest of experiences.  What would you finally be able to do when you wake up feeling refreshed and excited for the day? How will you feel when your self-esteem, self-confidence, and self-love give you the strength to pursue your dream life? What would that look like? How would your life be different?  
Give yourself five minutes to envision all the possibilities. If negative thoughts try to creep in, take a few deep breaths, and choose to release those negativities on your exhales. Remind yourself you are willing and open to having a new experience.
Use your imagination and have fun with this self-reflection. Write down all the wonderful things you'll finally be able to do. Remember to dream big. The possibilities are endless!
Example: I am happy and content with my life. I wake up every day feeling excited and motivated, ready to take on the world. I have the strength and courage to pursue my dreams and live my life on my terms. I am filled with happiness and contentment. I am grateful for all that I have. I am more productive than ever. I go after what I want with enthusiasm and achieve my goals with ease. I am relaxed and open. I focus on being present and enjoy each moment to the fullest. I am happy and content with my life. I am happy and content with myself.
Hi, I'm Jacqui Letran.

Thank you for visiting my site and exploring my work. I'm an Award-Winning Author, Mindset Mentor, and Nurse Practitioner with 25 years of experience.

My approach blends traditional medical training with holistic practices.
About a decade ago, I made a pivotal decision to close my medical clinics to focus on a more holistic approach to emotional well-being.
Why the change?
I observed an alarming trend among my patients. Despite receiving traditional counseling and medications, many were not experiencing significant improvements. They would return year after year for medication refills, but their emotional well-being remained stagnant.
This observation led me on a quest to discover better, more effective ways to help my patients. I learned that true healing required focusing on the root causes of emotional distress.
Inspired by this realization, I dedicated my career to helping people master their minds and, in doing so, transform their lives.
My journey led me to write books, create courses, and develop my proprietary healing process, ReStory EFT, based on traditional Emotional Freedom Techniques.
One of my key works is "I would, but MY DAMN MIND won't let me! A Simple Guide to Help You Understand and Manage Your Complex Thoughts and Feelings."
This book offers a deep dive into understanding how your mind works and how beliefs shape your life. It includes real-life case studies and showcases ReStory EFT as the primary tool for healing and transformation.
Today, I invite you to take the next step in your journey toward emotional well-being.
With this book and its companion journal, you'll have a comprehensive toolkit for emotional health, self-discovery, and a deeper understanding of how your mind shapes your world.
TYPICAL SHIPPING TIME FOR OUR SHOP:

Shipping Time: We ship within 3 business days of your order, excluding weekends and holidays.

Media Mail Shipping: Orders are NOT insured and typically takes 6-8 days, however, it can take up to 14 business days to be delivered to you.

First Class Shipping: Orders are insured and can take 4-6 business days to be delivered to you
Priority Shipping: Orders are insured (up to $100) and take 1-3 business days to be delivered to you.
*Shipping time may vary depending on location, shipment method and other factors.
Shipping Fee: Orders $65 and over will have free shipping. Orders under $65 will be charged for shipping depending on your chosen delivery method. Full price will be displayed at checkout. 
**Shipping fees are non-refundable.
Within 10 minutes of completing your purchase, you'll receive a download link for the book in an email from help@bookfunnel.com.

If you don't see the email in your inbox, please check your spam folder or search for emails from help@bookfunnel.com.