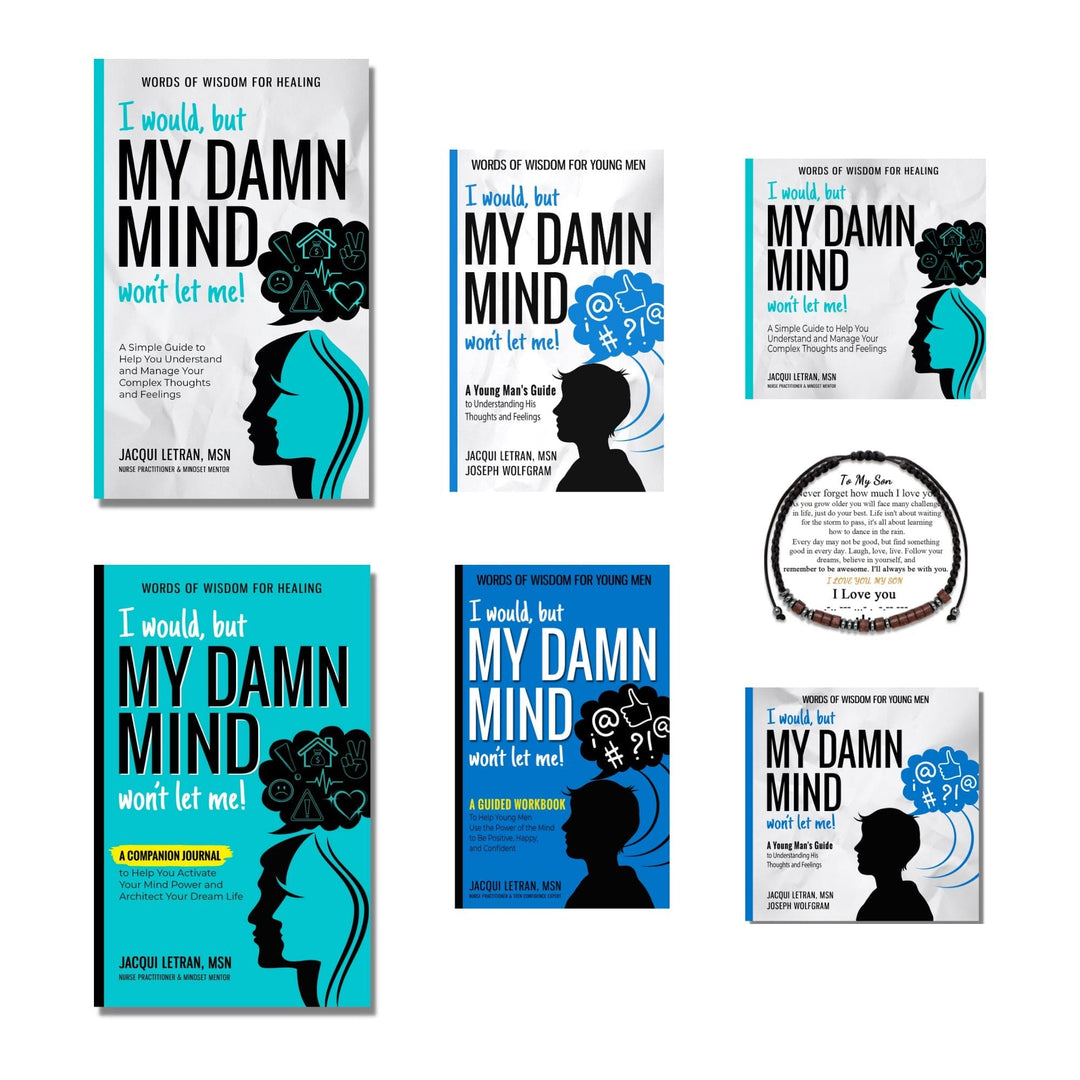 Parent & Son Bundle (Large Print Adult Books)
Nurture the seeds of self-confidence and self-respect together!

Large Print (Adult Books)
Regular price
$107.65
Sale price
$59.95
/
In stock, ready to ship

Inventory on the way
Shop Worry-Free: 🔒 100% Secure 256-Bit Encrypted Checkout and 30-Day Return Policy.
Our specially curated parent-son bundle provides both you and your young man a shared journey toward empowerment. Seize this opportunity to set a strong example, cultivating a supportive environment where every challenge is an opportunity for growth. Let this collection become the centerpiece of a treasured tradition that brings you and your son closer, fostering enduring confidence and a deep connection that will resonate for years to come.
What's Included:
✅ Adult's Paperback, Journal, Audiobook
✅ Teen Boy's Paperback, Journal, Audiobook
✅ Morse Code: 'I Love You' Bracelet for Son

Discover How To:
✅ Stop overthinking and reclaim your mental freedom.
✅ Quiet your mind to find your inner peace.
✅ Face your fears with newfound confidence.
✅ Remain calm and solution-oriented even in difficult times.
✅ Transform your life into a stress-free, joy-filled journey.


Hi, I'm Jacqui Letran.

Thank you for visiting my site and exploring my work. I'm an Award-Winning Author, Mindset Mentor, and Nurse Practitioner with 25 years of experience.

My approach blends traditional medical training with holistic practices.
About a decade ago, I made a pivotal decision to close my medical clinics to focus on a more holistic approach to emotional well-being.
Why the change?
I observed an alarming trend among my patients. Despite receiving traditional counseling and medications, many were not experiencing significant improvements. They would return year after year for medication refills, but their emotional well-being remained stagnant.
This observation led me on a quest to discover better, more effective ways to help my patients. I learned that true healing required focusing on the root causes of emotional distress.
Inspired by this realization, I dedicated my career to helping people master their minds and, in doing so, transform their lives.
My journey led me to write books, create courses, and develop my proprietary healing process, ReStory EFT, based on traditional Emotional Freedom Techniques.
One of my key works is "I would, but MY DAMN MIND won't let me! A Simple Guide to Help You Understand and Manage Your Complex Thoughts and Feelings."
This book offers a deep dive into understanding how your mind works and how beliefs shape your life. It includes real-life case studies and showcases ReStory EFT as the primary tool for healing and transformation.
Today, I invite you to take the next step in your journey toward emotional well-being.
With this book and its companion journal, you'll have a comprehensive toolkit for emotional health, self-discovery, and a deeper understanding of how your mind shapes your world.
TYPICAL SHIPPING TIME FOR OUR SHOP:

Shipping Time: We ship within 3 business days of your order, excluding weekends and holidays.

Media Mail Shipping: Orders are NOT insured and typically takes 6-8 days, however, it can take up to 14 business days to be delivered to you.

First Class Shipping: Orders are insured and can take 4-6 business days to be delivered to you
Priority Shipping: Orders are insured (up to $100) and take 1-3 business days to be delivered to you.
*Shipping time may vary depending on location, shipment method and other factors.
Shipping Fee: Orders $65 and over will have free shipping. Orders under $65 will be charged for shipping depending on your chosen delivery method. Full price will be displayed at checkout. 
**Shipping fees are non-refundable.
Within 10 minutes of completing your purchase, you'll receive a download link for the book in an email from help@bookfunnel.com.

If you don't see the email in your inbox, please check your spam folder or search for emails from help@bookfunnel.com.